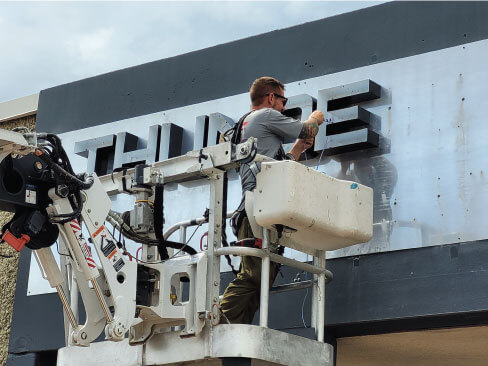 Wholesale Signage
For SIGN AND PRINT SHOPS ONLY
Experience a different approach to your needs, as well as the needs of your customers. We offer a full range of services to get the project sold.
Services Offered:
Quick Turnaround on quotes
In-house design and install services available
Full Service electrical services
Various financing methods to sell projects that might get away
PARTNER PROGRAM
Thunderbird partners with select sign and print shops in Oklahoma and the surrounding region. As a partner, we offer competitive pricing. Being locally owned we can drastically cut your cost of shipping and delivery time.
Our main focus and goal is to give sign retailers high quality products with superior service allowing you to meet your customers' expectations
We offer two levels of partnership available to sign and print shops:
OPTION 1: GET A QUOTE!
Already have everything needed for a quote?
Send us an email with all the details for a quick turnaround on your quote. We can still offer other services such as installs separately.
OPTION 2: REFER AND EARN!
Need help getting a job completed?
We are commited to working with you. Refer the job to us and we will handle everything. By partnering with us you will still make a percentage of the net revenue as a referral partner.
We understand that every customer has unique goals with individual budget needs.
We have developed 2 Packages to help you cater to your customer to fit what's best for them.
Basic Package is our cost friendly plan for your sign needs when on a budget. It is a simplified version of our premium package while still being high quality.
Premium Package is for those wanting the highest quality. These channel letters are industry leading and top of the line to meet your sign needs.